We spend a lot of time in our cars – whether we are going to work, traveling, or going somewhere with friends. At the same time, that means we live a lot of our lives there – we have empty coffee cups, food crumbs, sweaty gym clothes, drunk passengers, and who knows what else. This is why so many people have been trying to find the best car essential oil diffuser.
Using an essential oil diffuser in your car does so much more than just make your car smell good, however. Of course, everyone wants their cars to smell pleasant – especially if you are an Uber or Lyft driver or you are the designated driver for your work or friends. Essential oils can make you feel better, give you energy, and even help to improve your mood. Using a travel essential oil diffuser is better for you than those chemical-laden car air fresheners that you may have already used in your car.
Top 5 Best Essential Oil Diffusers for Cars and Travel
We've done some of the legwork for you – we've found the best essential oil diffusers for cars and travel. These are the portable diffusers that you can trust to work consistently and keep your car smelling great. They are long-lasting and of high quality. Even so, some of them are better for different things, so make sure to pick what will go with your lifestyle.
1. Organic Aromas® Nebulizer Mini USB Car Diffuser
Standing at the head of the pack is the Organic Aromas® Nebulizer Mini USB Car Diffuser that is perfect for cars and travel. It has a USB port and a rechargeable battery so that you don't have to worry about running out of power. This diffuser is small but mighty, packing a punch for up to 18 hours before a charge is necessary.
This one doesn't use anything that will contaminate the air you breathe – no plastic, no water, and no heat. Just put the oil into the glass reservoir and it starts to work. Coming in at about a pound and 6.3 inches tall, it fits easily into any travel bag. Even better, it works quickly – this one is extremely powerful with a usage cycle to efficiently use the oil.
Even better, there is a 1-year warranty on this portable diffuser so that if you don't like it, you can return it. Needless to say, we think you'll love it.
2. Syntus Car Essential Oil Diffuser
If you are just looking for a car diffuser, the Syntus Car Diffuser is perfect, especially if you have a USB port. All this one requires is a few drops of any high-quality essential oil and it will immediately cover up any foul scents. Not only does it come with a 5V 1A car adapter, but it can also be powered by any USB charger. Keep it on the charger to get a continuous spray or save battery life with the intermittent mist mode.
For those cars that don't have a lot of room, the Syntus measures 2.8*2.8*5.3 inches – it will fit into your cup holder! As a fun twist, your essential oil car diffuser will also turn seven different colors, you can turn it off, or you can set it to your favorite color to help relieve stress while driving.
3. InnoGear Car Diffuser
Another one of the best portable essential oil diffusers is the InnoGear Car Diffuser, which also fits into the cupholder. There is no need for an adapter either, the package comes with a USB cable for quick charging. It is BPA Free (extremely important) and intelligent – it will automatically turn off when the water level is too low. This feature will help to keep it operating like new for a long time.
This one has two different mist modes (continuous and intermittent) with really easy to use buttons on the top. If you are driving and need to change it, you won't put yourself in danger. Finally, this one also has color-changing LED lights. The glare from this one is a bit better than some of the other.
4. Gulaki Car Essential Oil Diffuser
One of the best travel essential oil diffusers on the list, the Gulaki Car Diffuser fits perfectly into your cupholder. Even better, it has spots to charge your phone so that you don't have to worry about taking up your charging areas – in fact, you get two 12V charging ports that will work perfectly with shorter cords. At the same time, this diffuser is an air humidifier to help eliminate dry skin, dryness, and sinus problems – something we all face when traveling.
The Gulaki also has an intelligent shutoff feature that prevents breakdown. It has a great warranty that will keep you protected for a long time – which is great if you travel a lot and this will get thrown around in your bag.
5. Car Aromatherapy Essential Oil Diffuser Stainless Steel Locket
For the smallest car essential oil diffuser, the Stainless Steel Locket is a clip that fits into your car's vent system. Not only will this force the scent into your car without power, but it also doesn't take up room or cup space. Each diffuser comes with felt pads that you put the essential oil onto and then it will distribute. They will also clip onto hotel vents, office systems, and even in gym lockers to ensure that you have good smells with you wherever you go.
For the smallest portable diffuser with a big punch, this is a great choice.
How To Choose The Best Car Essential Oil Diffuser Quickly
If you haven't had a car diffuser before, it can be somewhat difficult to choose the best one. There are a few things you may want to consider:
Water or Waterless: If you want to use a diffuser that uses water, you will have to refill it periodically and watch out for spills. These are called "Ultrasonic" or a "Nebulizer" diffuser.
Run Time: Do you want an intermittent or continuous mist? This will vary the time that your portable diffuser operates. Do you need it going all the time or will an intermittent spray suffice?
Adjustable: Do you want to adjust the mist? Maybe you want it to be higher when you aren't in the car but turn it down when you are actually driving.
Batteries: Does the diffuser has rechargeable batteries or do you need to change out with disposable batteries? You should pick what matches your lifestyle. In general, rechargeable batteries are better for the environment as well.
Power Source: Some diffusers don't use batteries at all, they can be a USB diffuser, a cigarette adapter diffuser, or run solely on batteries.
These are just a few of the considerations that you will have to make when shopping for a portable essential oil diffuser for your car.
Best Essential Oils to Stay Awake When Driving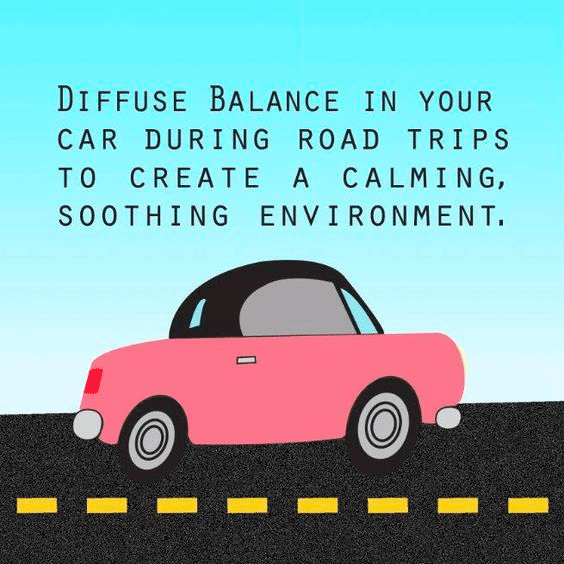 If you are the type of person who drives late into the night or drives long hours, you know that it can be quite difficult to stay awake when driving. As such, there are quite a few options for which oils to put into your travel diffuser to help you stay awake. The best essential oil companies reviewed certain oils to make sure that they will give you bursts of energy to get a few more miles in or make it to your destination safely.
If you like fruity smells, citrus fruits will help to keep you awake. Think about using blends of lemon, lemongrass, orange, or even grapefruit will all boost serotonin, which will keep you awake.
If you don't like fruity scents, there are some more earthy tones that will keep you awake as well. These include rosemary, peppermint, cinnamon, and ginger. You can even make your own mixes of the scents by combining a few different drops together. When you do this, you will get the benefits of all of your options.
There are many essential oils that will not only keep you awake, but they will boost your alertness, which is imperative when you are driving. Here are our top suggestions:
Basil Essential Oil to reduce mental fog;
Black Pepper Essential Oil to focus on driving;
Cinnamon Essential Oil to stimulate the adrenal glands;
Ginger Essential Oil to help stimulate your nerves;
Lemongrass Essential Oil to help clear your mind;
Grapefruit Essential Oil to reduce mental fatigue and relieve stress when driving;
Lime Essential Oil to help reduce sluggishness;
Orange Essential Oil to improve your energy levels;
Peppermint Essential Oil to boost physical and mental vitality;
Rosemary Essential Oil to increase blood flow;
Thyme Essential Oil for stress reduction and mental burnout.
These are just a few of your options and, as mentioned, it can be great to mix them together.
Essential Oils to Avoid that Obstruct Concentration
Of course, if there are scents that you should use, there are also essential oils that you should avoid when you are driving long distances. If you are using your travel diffuser in the car, there are a few scents that you want to avoid – and you want to ensure that you've cleaned your diffuser if you've used them previously and you now want to use them to drive.
These scents include:
Bergamot Essential Oil: While this is a member of the citrus family, it isn't great for keeping you awake. In fact, it will slow your heart rate, lower your blood pressure, and relax you. Some of these may benefit you, but you don't want them to happen when you are driving.
Cedarwood Essential Oil: There is a lot of evidence that Cedarwood helps with sleep. There haven't been many studies yet, but it is best to avoid this one for now.
Clary Sage Essential Oil: Clary Sage is a natural sedative that has been used for centuries – avoid it if you are trying to drive.
Lavender Essential Oil: Lavender is known for bringing on sleep and calming you down. It is used in baby products and cleaning products. It works great if you want to count sheep and fall asleep, but not so great if you are trying to stay awake.
Roman Chamomile Essential Oil: One of the best essential oil treatments for insomnia is Roman Chamomile – which probably tells you all you need to know about why you should avoid it.
Sweet Marjoram Essential Oil: This is a great essential oil to use in your car if you want to sanitize the air, but do so when you aren't going to be driving for a long time, as it is another natural sedative.
Valerian Essential Oil: If you want to find a tea that will help you to fall asleep, a must-have ingredient is Valerian. If you want to stay awake on a road trip, it is best to avoid it altogether.
Essential oils don't impact everyone in the same ways. There are some essential oils that will work for you and some that won't. It is best to try out the different blends beforehand so that you can see how they will impact you.
When I'm driving, I tend to use one of the citrus scents that help me to feel energetic and alert. This is especially true when I'm driving home at the end of a long day and need to face traffic jams on the highway. I find that using lemon, in particular, allows me to stay awake and even puts me in a better mood.
As for which diffuser I'm using – I'm personally a fan of the Organic Aromas® Nebulizer Mini USB Car Diffuser. I just love the look of it and it's perfect because it doesn't need water. I'm also a fan of products that don't have plastic, so it is a perfect fit.