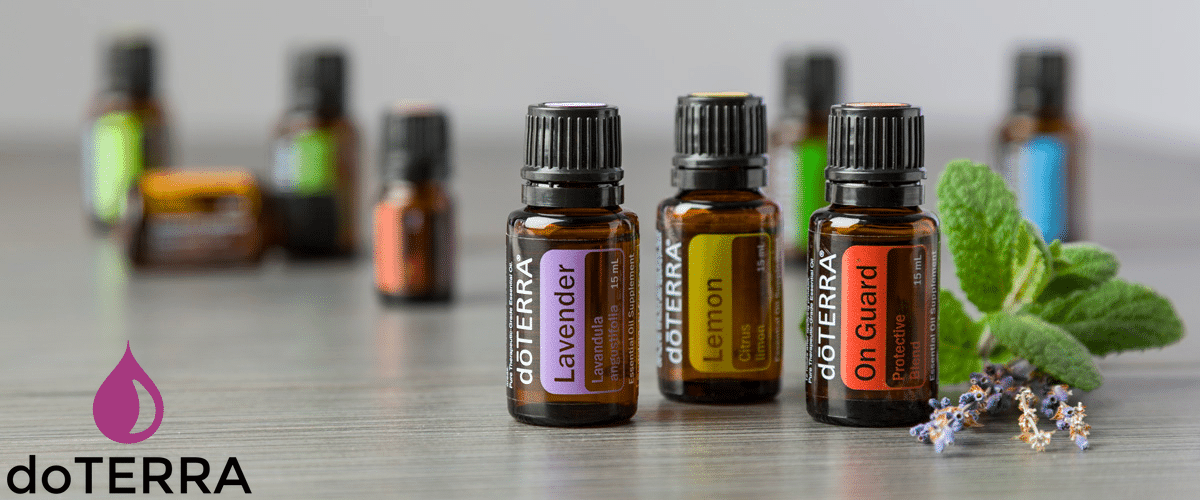 Founded in 2008, doTERRA® entered into the essential oil market with a mission to share therapeutic-grade essential oils with the world. The company has grown exponentially in the last 11 years due to a business focus on sourcing quality essential oils, creating a new standard of quality in the essential oil market place, and having a multi-level marketing strategy that empowers their product distributers as doTERRA® "Wellness Advocates."
About doTERRA®
Built by a group of health-care and business professionals who had witnessed the benefits that can be had from using essential oils themselves, the founders named the company doTERRA®, a Latin derivative meaning "Gift of the Earth." doTERRA® then began setting a new standard for essential oil quality by aiming to provide its customers with the most tested and most trusted essential oils, and supporting that with a commitment to derive these unique oils directly from the best sources in the world.
This commitment led to the creation of a new standard that measured the therapeutic quality of essential oils known as: CPTG Certified Pure Therapeutic Grade®. This quality certification is meant to ensure that the essential oils purchased and distributed by the company are unadulterated, free of heavy metals, and are of the highest quality standard. The CPTG Certified Pure Therapeutic Grade quality protocol includes the following tests:
Organoleptic testing
Microbial testing
Gas chromatography
Mass spectrometry
Fourier Transform Infrared spectroscopy (FTIR)
Chirality testing
Isotopic analysis
Heavy metal testing
Establishing this standard has allowed doTERRA® to become the leader in the global Aromatherapy and Essential Oils market in sourcing, testing, manufacturing, and distributing CPTG® essential oils through a network of more than 5 million doTERRA® Wellness Advocates and their customers.
Some key features that make doTERRA® stand out among other essential oil companies are:
Through the years, doTERRA® has formed a Global Botanical Network of artisans and distillers which has made doTERRA® a trusted partner in the essential oils industry. The company is dedicated to helping these communities improve their own economic futures through its Co-Impact Sourcing® model and its own non-profit extension: the doTERRA® Healing Hands Foundation™. With over 130 essential oils in its product line, doTERRA® sources its oils from over 40 countries —more than half of which are developing countries. Co-Impact Sourcing ensures that small scale farmers and harvesters in disadvantaged areas are treated fairly and ethically.
The doTERRA® mission centers on discovering and developing the world's highest quality therapeutic grade essential oils and related natural wellness products. They accomplish this with a team of in-house scientists as well as highly accomplished scientific and medical advisors. The company also stays at the forefront of scientific advances by partnering with selected academic, industry and medical institutions. doTERRA® has worked with over 100 different organizations to do research and/or implement essential oils into their facility, including: universities, hospitals, VA medical centers, and hospices/care centers.
Each essential oil that doTERRA® offers is carefully and thoroughly tested using CPTG Certified Pure Therapeutic Grade® quality protocol.
doTERRA® utilizes a direct selling model that works with individual distributors rather than mass marketing. This model has created the opportunity for individuals and families to create businesses for themselves by acting as distributors, and selling essential oils. More than 2 million Wellness Advocates use and sell doTERRA® products around the world.
The company makes it easy to become a doTERRA® Wellness Advocate for the company, so that members can receive a discount on essential oils and also earn income while sharing their passion with others. Once enrolled in this program, a variety of educational training tools are offered to assist Wellness Advocates in growing their business, from training in how to use their products, to training in how to introduce and sell oils to others.
In 2008, the first offering of doTERRA® included 25 single oils and 10 blends. Since that time, the doTERRA® product line has grown to include many more additional single oils and oil blends as well as nutritional- based, spa, and other lifestyle products that incorporate essential oil technologies such as diffusers.
Things to Consider
The company carries a strong mission to offer the highest quality essential oils, this measure can be seen in the retail prices that are listed on their website. Conveniently, right below these prices, which tend to be much higher than other essential oil companies, a wholesale price is listed so that shoppers can easily compare the value of enrolling to become a Wellness Advocate.
Anyone can enroll to be a doTERRA® Wellness Advocate by paying a fee of $35. This membership fee is waved if a person purchases one of the enrollment kits, at which point doTERRA® products can be purchased at a substantial discount, and a series of doorways begin to open in regard to training materials to help them sell their product. While this looks to be a great opportunity to build a small business, this puts the education around safety and cautions into the hands of the distributor (Wellness Advocate), and if that person is new to using essential oils they will likely carry a confidence, passed on by their higher tiered rep, that essential oils are safe to be used in ways that trained aromatherapists would not typically encourage. This title gives a false sense of background for an individual who is selling essential oils. While it may be said that members who are selling doTERRA®'s essential oils and products are advocating for wellness, this title gives a false impression that these folks have some sort of training in wellness therapies, when in fact they have only been trained to sell products. The majority of most reputable holistic certifications begin at 300 hours of study, which encompasses far more research and investment of time and resources, than a payment of $35.
Regarding Quality Assurance: Overall, doTERRA® stands apart from many large-scale essential oil companies with its dedication to quality essential oils and establishment of relationships with artisan distillers that can ensure a standard of extraction practices that are free of adulteration. It created its own standard of certification to measure the therapeutic quality of essential oils, known as CPTG Certified Pure Therapeutic Grade®.
No other company can claim anything similar to this or use this certification as a measure for their essential oils as it is a standard that doTERRA® created for its own essential oil product offerings.
While all the essential oils that doTERRA® offers bear this certification, the GC/MS reports and other data on the essential oils is not readily available for the public to view. In other scenarios, companies do offer access to this information as they realize that it will vary from season to season and the resulting batch of essential oils. Without access to this information, consumers are unable to compare doTERRA®'s essential oils to other companies as a measure of quality and are also unable to use the data as a tool for learning about essential oils or sharing it with their customers.
Regarding Safety Standards: As a Certified Aromatherapist, Herbalist and Nutritionist, I was struck by several things while looking through the product pages of doTERRA®'s essential oil offerings that need to be mentioned. Through my continuous study of more than 25 years in aromatherapy, and other forms of botanical and integrative therapies, I have studied with many mentors of aromatherapy, including nurse practitioners and gathered and read more than a dozen books on the subject of aromatherapy and essential oils.
Overall, the cautionary information on individual essential oils within doTERRA®'s product information seems to be lacking. The company encourages excessive dilutions of essential oils which aren't necessary for the essential oils to be effective. Whereas classic aromatherapy books and trained educators teach that topical dilutions should be prepared in ranges of 1-5% and only in the higher ranges for very small, localized areas, doTERRA®'s product pages suggest using essential oils either undiluted, or diluted at thirty percent. The company's website suggests encouraging dilution only if sensitization is a possibility in the individual.
It is important to note that essential oil can be sensitizing just by its nature over time and how the constituents change when exposed to light, air, temperature, and age. Just as an essential oil can be phototoxic, photocarcinogenic, neurotoxic, etc. it is important, despite the quality of any essential oil, that it is diluted prior to use and that the essential oil's specific safety precautions are taken into consideration. Some of the essential oils that they suggest as "maybe sensitizing," are known in other resources to be dermatoxic. It is important to note that if an essential oil has the potential to be irritating to external skin it can also be irritating to the skin which lines the digestive tract. Unfortunately, the company's webpages do not mention any kind of caution in this respect.
Another observation that came to my attention while researching doTERRA® is the company's negligence when it comes to warnings around using essential oils with children. While other companies put an emphasis on labeling which oils are safe to use with children, doTERRA® puts vague references within the cautionary information of these oils and covers their bases with a vague suggestion to "keep out of reach of children," rather than stating, for instance in the case of peppermint essential oil, that using this specific oil in any way around your young child, even if diluted drastically, could be harmful.
It appears that the information in the individual cautionary information on specific oils was pasted into the webpage rather than having each individual oils' cautionary properties properly considered. One can see this more easily when comparing information regarding the essential oils of Oregano, and Wintergreen, as well as Cinnamon Bark. When one compares the topical dosage and other recommendations that doTERRA® suggests to the cautionary suggestions presented through scientific data on these specific essential oils which is detailed in Robert Tisserand's second edition of Essential Oil Safety (2014), it is unsettling to see the vague language around usage suggestions and general cautionary guidelines that is offered by doTERRA® on their product pages. Many of these usage suggestions involve the method of ingestion, which is the least recommended form of aromatherapy in the practice of aromatherapy itself, and is only used in acute situations for short periods of time, under the guidance of a trained health care professional whom understands the possible toxic nature of ingesting essential oils.
doTERRA® has led their Wellness Advocates to be confident in sharing essential oils through the method of ingestion and bases this confidence on two primary beliefs: That consuming essential oils is GRAS, or designated as Generally Regarded As Safe by the FDA, and that because ingestion is used in French models of Aromatherapy, it is a safe method to share with the general user of essential oils in the United States market.
Due to these two pieces of reasoning embraced by doTERRA® and other MLM essential oil companies, Wellness Advocates and other consumers have been led to believe, through a misrepresentation of information, that ingesting essential oils has the same level of safety as ingesting culinary herbs used in various cuisine. It is important to point out that the FDA does not currently regulate the use of essential oils, it regulates the foods that we eat and the drugs used in our medical system. Herbs and spices, which are commonly used in various cuisine are generally aromatic in nature, often have carminative action, and have been proven to not be poisonous in the levels that people eat them in foods. Hence, they have been determined through years of historical-cultural use to be Generally Regarded As Safe for consumption, or GRAS, by the FDA.
When researching the details of this specific governmental designation it is important to realize that this designation is not given to supplements, or to essential oils for the use as a therapeutic by way of ingestion. In order for anything to be designated to be safe for therapeutic use by the FDA it would need to be designated as a drug and proven to perform the action that the material claims to perform. Consuming essential oils is not currently regulated by the FDA.
While it is safe to consume a certain amount of oregano, for instance, as a culinary herb added to your evening dinner recipe, it is important to consider the degree of difference in concentration between a physical plant, and essential oil. When one considers that it can take 31 grams of Lavender to create 5 drops of lavender essential oil, one can begin to comprehend why it is so important to have caution in this area. Not only is it important to note the concentration difference of these two substances, and the amount of say, lavender, or oregano one could possibly consume in one – three days of eating a dish heavily laden with the plant, it is also important to consider the difference in how the body will process a handful of plant matter, versus a few drops or more of essential oils. The two materials are quite different within the body. While the plant material will have mineral content, vitamins, fiber, and general nutritive value, the essential oil is primarily terpenes and volatile compounds that carry a psychokinetic action within the body. They do not carry the substance that is measured in most foods as "nutrients", so to speak, and are more action-focused by nature in regard to how the body responds to them.
As the FDA material states specifically, "the dose makes the poison." The FDA document goes onto explain that even though a substance or material is listed as GRAS does not assure that the substance is safe for all uses. By claiming that GRAS refers to the safe ingestion of essential oils, companies such as doTERRA® have misled people to believe that consuming essential oils is just as safe as adding a few pinches of oregano to their evening's meal. This is quite simply, a false connection in reasoning. It is every essential oil company's duty to encourage caution in this area, and unfortunately, doTERRA® doesn't follow by this principle. Instead, the company entrusts its Wellness Advocates to assure their customers that it is safe to consume essential oils.
Despite receiving guidance and training on how to sell the company's products, Wellness Advocates are not trained in basic safety considerations of using these very concentrated plant substances. It is important to point out that every substance that is consumed has to be processed through the liver and the kidneys, and that essential oils are also small enough to pass through the blood-brain barrier and manifest neurotoxicity. Necessary cautions should never be overlooked or vaguely represented in the realm of essential oils and no level of quality standards negates the importance of caution.
When considering the second support that doTERRA® leans into when promoting the safety of essential oil ingestion, one needs to take a closer look at the French model of Aromatherapy. It is important to make note that in the French model of Aromatherapy essential oils are used and integrated into medical protocol within hospitals in that medical system. Within the French model, the ingestion of essential oils is only recommended by doctors and distributed by pharmacists to treat acute conditions, there is not a practice within the public sphere to consume essential oils anywhere in proximity to what doTERRA® encourages in practice.
Many Wellness Advocates profess that the absence of caution to be a note of the quality and that the standards of doTERRA® products surpass other companies so much that they do not deserve the same cautions. This is unsupported in any study and needs to be examined from a different angle. When considering any plant's essential oil, it is made of up of anywhere from 100-300 different chemical compounds that are naturally occurring in the plant. It is these compounds that have been shown to cause certain responses by their physiological actions on the body, some of which revealed themselves to be sensitizers in usage and research data over time. It is important to understand that if an oil has the property of being a sensitizer, or photosensitizer or even a neurotoxin, it will have those same constituents within doTERRA® oils, and the body will respond to them similarly. It is unfortunate that doTERRA® continues to encourage their Wellness Advocates to support this heir of confidence that the quality of the company's oils stands so high above others, that consumers need not warrant caution when using them. In my experience, this has only led people to undergoing unintended negative results that could have been avoided had they known of the cautions related to the oil which are ever present in practice of aromatherapy itself.
Regarding Research: Many of doTERRA®'s experimental and clinical studies are performed by world-class external partner laboratories and clinics. doTERRA® also supports many clinics and universities who approach us with study proposals in the field of essential oil and related natural products research. Some of these studies are highlighted within the company's blog. While it is exciting to see some of the studies on the efficacy of essential oils, the blogs themselves, which present the data, are a bit misleading.
When we look at an article offered on doTERRA®'s blog on Cinnamaldehyde, the main chemical constituent of Cinnamon Bark and Cassia essential oils, we can infer that based on the research data, that "cinnamaldehyde acts to support healthy molecular function in the kidneys." The company adds an Asterix to this because the statement hasn't been supported by the FDA. It is also important to consider that Cinnamon Bark, is cautioned against use topically, in the practice of Aromatherapy due to the dermatoxic nature of Cinnamon Bark. Classically, Cinnamon Leaf is used, rather than Bark, because it is less of an irritant to the skin. The article infers, like many of the product pages, that ingestion of Cinnamon Bark essential oil helps to support molecular function of the kidneys, but makes no mention of any caution of Cinnamon Bark ingestion causing harm to the digestive system, which is made of the same tissue as the skin and can be damaged just the same. The article also neglects to mention any caution that ingestion can have to the kidneys or liver itself, which is a known concern that is represented thoroughly in Robert Tisserand's book: Essential Oil Safety.
Reflections of doTERRA®
doTERRA® holds a strong presence in the essential oil market, it also has empowered a false sense of safety in regard to using essential oils. If a person is newly introduced to essential oils by a doTERRA® Wellness Advocate, having no background in personally using them, they are likely to embrace the practices that the company and its Wellness Advocates suggest, rather than observing any necessary and known cautions.
Overall, doTERRA® carries a reputation for quality that stands above many other essential oil companies. It has a history of creating relationships and helping its distillers with development projects that better their communities, which allows doTERRA® to assure the highest standards of quality. As a company, doTERRA® has grown exponentially through the years by utilizing a direct-marketing business model and by helping its members to build their own small businesses.
With their standards of quality, doTERRA® is a company that you can feel good supporting, however the company cannot be considered a reliable source for safety and cautionary information regarding essential oils.
It would be wise for any doTERRA® Wellness Advocate or person considering becoming one, to invest in a reputable book on essential oils that was written by an author with a background in training on the subject of aromatherapy that details cautionary information regarding the use of essential oils.