Built upon a foundation of aromatherapy, Plant Therapy® was founded with two key priorities in mind, to help people to improve their quality of life and to provide the best quality essential oils at the most affordable prices.
Some key features that make Plant Therapy® stand out among other essential oil companies are:
Plant Therapy® is the first essential oil company to design an entire line of essential oils and essential oil synergies that are strictly safe for use with children from the ages of 2-10 years old, KidSafe®.
It is one of the fastest-growing essential oil companies, now offering an extensive range of essential oils, organic essential oils, synergies, and rare oils at affordable prices. Each and every oil has a batch number printed on the bottle that can be referenced online for safety and detailed chemistry information.
The company has several aromatherapy experts on staff with extensive experience that can answer customer questions by phone.
Their website provides a wide range of free educational resources, including videos, recipes, and blogs. It also has an extensive online community where customers can share knowledge, experiences and their own recipes.
Plant Therapy® believes in building community and making the world a better place. It has a USDA Certified Organic facility, and is Leaping Bunny Certified. The Leaping Bunny certification promises that none of the ingredients used in any of Plant Therapy's products have been tested on animals. Plant Therapy has also dedicated itself to a number of charitable causes, including volunteering at local food banks, and contributing funds to the Africa Heartwood Project, a nonprofit which provides clean drinking water to local villages in Liberia.
Founded in 2011 with an intention to provide quality, and affordable essential oils, Plant Therapy was built on a foundation of education. In 2009, the president of the company, Chris Jones, purchased a small natural products company from his mother-in-law, an aromatherapist. Soon after a restructuring of the company, the owner decided to reach out to experts within the industry of aromatherapy and progressively explored the complexity of essential oils. While he was sourcing essential oils in the marketplace, Jones realized a need for high-quality essential oils at an affordable price, and began focusing on creating an online community with educational resources.
He invited the world's most renowned essential oil safety expert, Robert Tisserand, to contribute as a consultant and to identify essential oils organoleptically, and to help create a product line that was markedly safe for children, KidSafe®.
Within only a short number of years, Plant Therapy® has set itself apart from other essential oil companies by providing an increasing number of online resources, growing a supportive online community and responding to a market need for products that are clearly safe for use with children.
Plant Therapy Quality Assurance
Prior to even obtaining a sample of essential oil, Plant Therapy® researches everything they can about the farmer, distiller or supplier of the product. They research the background, reputation, commitment to quality, and commitment to the industry behind each sample. Once they know everything they need to know to their satisfaction, they then move on to looking at the actual oil itself. When the oil samples are received, Plant Therapy essential oils are organoleptically tested by Robert Tisserand who has been evaluating essential oils professionally for over 40 years. Organoleptic testing entails smelling the oil from a testing strip over time, evaluating the color, consistency and general appearance of an essential oil, and comparing it to what a good quality oil historically should look and smell like. Following this process, the essential oils are sent to one of several third-party laboratories where they undergo multiple tests including GC/MC testing (Gas Chromatography and Mass Spectrometry).
Every bottle of oil that that is sold through Plant Therapy has a specific batch code printed on the bottle, indicating the exact batch of oil that's in the bottle. The information on this specific oil, including its GC/MS reports, can be located on the webpage of that specific oil. These test reports are public and can be accessed prior to purchasing oils, you can view them by going to the essential oil's product page and clicking on Test Reports.
The company understands how important it is for customers to know exactly what they're purchasing. They include the botanical name, extraction method, country of origin, plant part, aromatic scent and GC/MS report on every single essential oil product page. The safety and cautionary information on each oil is clearly visible on the main product page of each essential oil. This allows the customer to know exactly what they're purchasing, and to make the most informed decisions for themselves and their family.
Additionally, in 2015, Plant Therapy became a USDA Certified Organic facility as an important step in their commitment to producing essential oils of exceptional quality and using the purest ingredients. The company carries nearly 60 organic essential oils.
Plant Therapy Product Lines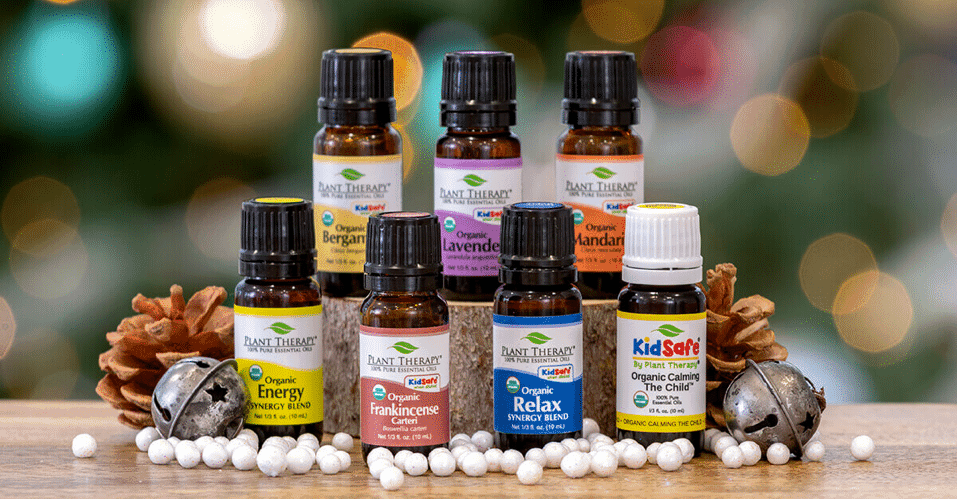 Standing apart from other essential oil companies, Plant Therapy not only offers an extensive variety of oils, including unique and rare oils, in smaller volumes so that their customers can experience these exquisite oils, it also developed an entire line of products that are safe to use with children.
Within a few years of founding the company, Plant Therapy invited the world's foremost expert on essential oil safety, Robert Tisserand, to create a unique offering for the marketplace, the KidSafe® line. As a father of four children, creating this line of products was of key importance to the business owner. Using essential oils around the home has become more common place, and ensuring safety first when working with essential oils and children is imperative.
KidSafe® is the first-ever line of essential oils developed especially for children. Not only does the line specifically label which essential oils are safe to use with children, the company also developed a synergies line, KidSafe Synergies®. Designed by Robert Tisserand for children ages 2–10, KidSafe includes a variety of synergies targeted toward specific issues and ailments common in this age range. All KidSafe products are available as 100% pure, undiluted essential oils as well as pre-diluted roll-ons. These oils are not only 100% safe for children, but they were also designed to be effective. The level of research, testing and quality assurance that the company put into developing the KidSafe® line is unparalleled in the industry. If you are looking for essential oils to use on your little one, there is simply no comparable product available on the market.
Plant Therapy® offers a wide variety of oils, an entire KidSafe® line of essential oils, blends (including KidSafe® blends), Essential Oil Sets, Roll-ons, Diffusers, Books, Carrier Oils, Blank Inhalers, Packaging (empty bottles for blending), and other miscellaneous supplies.
For those who are feeling a bit adventurous, Plant Therapy® also offers a subscription to an Oil of the Month Club where they send out exclusive oils to its members. As a member of the Oil of Month Club customers will receive oils that are not yet being sold by Plant Therapy. Depending on the oil, customers can expect to receive sizes ranging from 2.5-30 ml of undiluted single essential oils and synergy blends. This is a fun offering for those who love receiving an aromatic surprise in their mailbox each month.
For people who have long-loved products from other essential oil companies, Plant Therapy® offers a wide array of comparable blends. The company lists a comparison chart for easy substitution of Young Living and doTERRA blends.
Plant Therapy Education Offerings
Plant Therapy® built its reputation by building its community and online presence. One of them stepped in front of many other essential oil companies is by educating their customers. At Plant Therapy®, the safe and efficient use of essential oils is extremely important. They want customers to be armed with knowledge, and be confident in using essential oils in their homes and with their families.
If you sign up for Plant Therapy's newsletter or subscribe to their blog, you will quickly see that educating their customers is very important to them. With ten certified aromatherapists on staff, the company regularly produces useful content and educational resources to build confidence and safety practices while using essential oils. They have a Safe Essential Oil Recipe group on Facebook where customers (and non-customers) can share their safe recipes. In addition to these resources the company also offers an endless number of videos to be viewed, and even downloaded, online.
A Reward Program that Encourages Knowledge Sharing
The moment you begin purchasing oils from Plant Therapy you receive points toward your next purchase. Plant Therapy has a PT Perqs Program that their customers love. What makes their program unique, is that it encourages their customers to get involved in their online community and also be involved in giving the company consistent feedback.
For example, not only do customers earn 10 points for every dollar spent, customer will also earn points when they connect to Plant Therapy's social media pages, comment on their blogs, and even when they write reviews. Here are some of the ways that customers can grow their points as well as the value and rewards of their point system:
Create a Plant Therapy account = 100 pts
Connect with us on Facebook = 100 pts
Connect with us on Twitter = 100 pts
Connect with us on Instagram = 100 pts
Connect with us on YouTube = 100 pts
Comment on a blog = 100 pts
Write a review = 150 pts
Free Birthday Points! Get 150 pts each year on your birthday!
1,500 pts = $5 reward
3,000 pts = $15 reward
6,000 pts = $40 reward
The company sincerely appreciates their customers thoughts, opinions, and feedback. This interaction has allowed them to make adjustments and cater more toward their customer's needs through time.
Customer Service and Reputation
Plant Therapy has an online social media presence that builds a community among their customers in an effort to share information. By having a transparent review process, customers are able to share their experiences and recipes which inherently nurtures more sharing and the building of community within a foundation of knowledge sharing. The company provides endless articles on the uses and benefits of specific essential oils, and even stretches one's understanding around some lovely underused oils, with surprises like blogs on black pepper.
Plant Therapy not only has a great reputation for their quality products and educational resources, but they also make an effort to give back the community and have contributed to many charitable causes throughout the years. One of the primary missions included a visit to Liberia in 2014 to do work with the nonprofit Africa Heartwood Project. This visit allowed them to provide clean drinking water to local villages. In 2016, they hosted an Open House at their new facility holding a charity dinner which they also matched the funds, ultimately raising $23,000 to be donated toward clean water projects.
Reflections of Plant Therapy
Overall, Plant Therapy stands apart from many large-scale essential oil companies with its dedication to safety and education. It is the first essential oil company to develop and label a product line of essential oils that is safe for use with children, and did so with the assistance of a world-renowned Essential Oil Safety Professional. This is a notable distinction, as many other essential oil companies have falsely made customers believe that the quality of an oil determines its safety in use.
As the owner of the company says, "At Plant Therapy, our goal has never been to be the largest essential oil company, only the best." Plant Therapy is a leading force in the realm of essential oil companies. It is an essential oil company that any aromatherapy professional and enthusiast can trust, and feel good about supporting.