Rocky Mountain Oils (RMO) was created in 2004 in Orem, Utah, by a collection of wellness enthusiasts who were determined to provide 100% pure essential oils at a cost-effective price.
Some key features that make RMO stand out among other essential oil companies are:
RMO does extensive GC/MS analysis and testing on all of their essential oils prior to making them available to their customers. All of their products bare the S.A.A.F.E. Seal to confirm that they are 100 percent pure, adulterant free essential oils.
They are one of the leading direct-to-consumer essential oil companies in the world, now offering more than 180 essential oils, blends and body care products. There is no need to be a member of RMO in order to purchase their products, and there are no order minimums for shipment.
RMO offers quick turn-around time for orders, and free shipping across the continental United States. RMO also offers free shipping for all international orders which total more than $200.
RMO offers a 90-day, no questions asked, return policy, even if the product has been opened. The company will also pay for the return shipping of these products, so there is absolutely no risk in your purchase.
The Company Sources Sustainably and also exercises environmental considerations within the office, including using algae-sourced ink and recycled packaging.
Quality Assurance and the S.A.A.F.E. Seal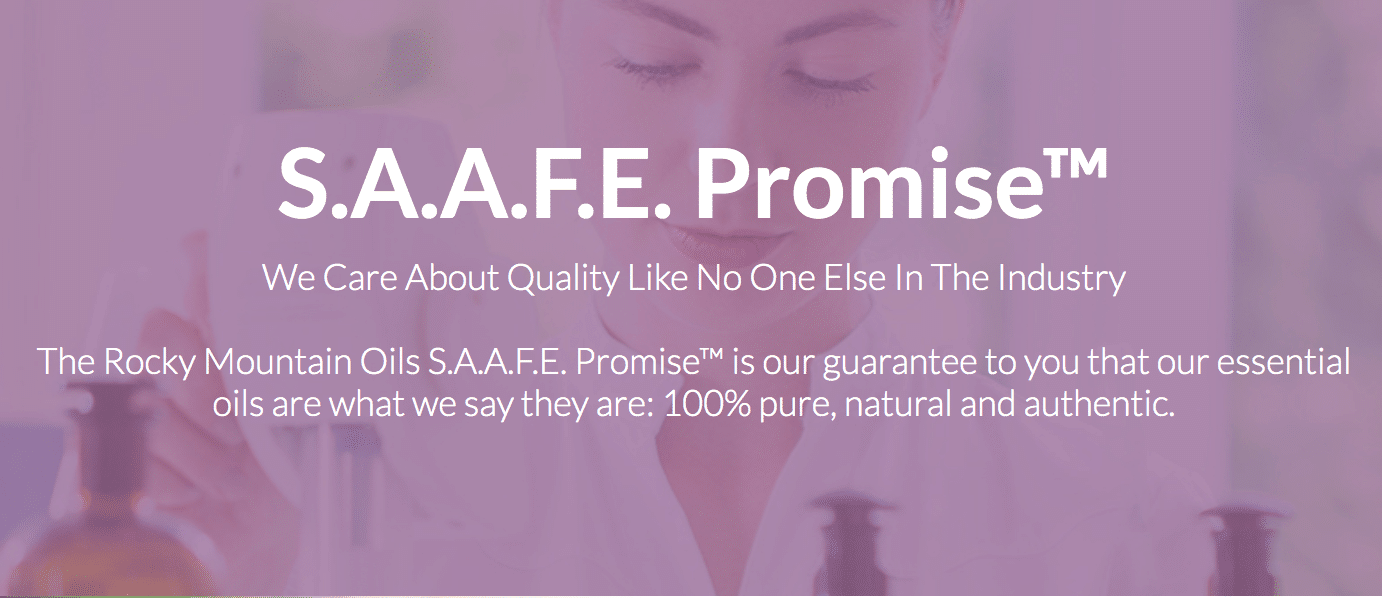 Rocky Mountain Oils holds a standard for some of the most vigorous and extensive testing procedures to guarantee the quality, and continues to gain the confidence of their customers. While they do offer a Certified USDA Organic Line of ten single essential oils, the company states that all of their oils are sourced with organic farming practices and have passed extensive third-party testing prior to being sold. The tests that they require include GC/FID, GC/MS, Organoleptic, Pesticide, and Refractive Index testing. Each individual bottle has a notation on the bottom which details a batch number that the essential oil was sourced from, which can be used to reference the GC/MS test results of the specific oil on the company's website.
The S.A.A.F.E. Seal is an acronym that exemplifies and guarantees the company's highest standards of quality:
Satisfaction Guaranteed – RMO is dedicated to delivering the highest quality essential oils and carry a 90-day money-back guarantee on all of their products.
Authentic – Through their rigorous process of testing RMO guarantees that all of their essential oils are authentic.
Analysis – RMO guarantees their essential oils with extensive in-house and external testing analysis.
Free of Adulterants – Extensive chemical analysis guarantees their oils are free of adulterants.
Effective &

P

ure – All essential oils offered by RMO are guaranteed to be 100 percent pure essential oils.
RMO Product Lines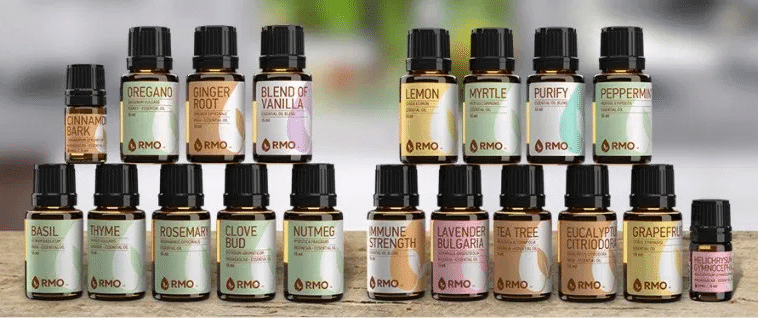 RMO pure essential oils are primarily offered in 15 ml size amber glass bottles. Each oil's label is detailed with the common name, genus and species, country of origin, and volume contents as well as supplement data. The company also offers rare essential oils such as blue tansy, rose and neroli, in 5ml sized bottles. Their library of offerings consists of 90 different single essential oils, which includes common and popular essential oils as well as some of the more-rare varieties. Unlike many essential oil companies that offer rare oils diluted in a carrier oil, RMO only offers only 100% pure essential oils. In addition to offering single oils, they also sell blends, kits, carrier oils, adult roll-ons, kid-friendly roll-ons, face and body care, diffusers, and small bottles for blending your own products. Some of their essential oil formulas that they offer are comparable in action and quality to other competitors blends and the company provides a convenient chart on their website for your comparison.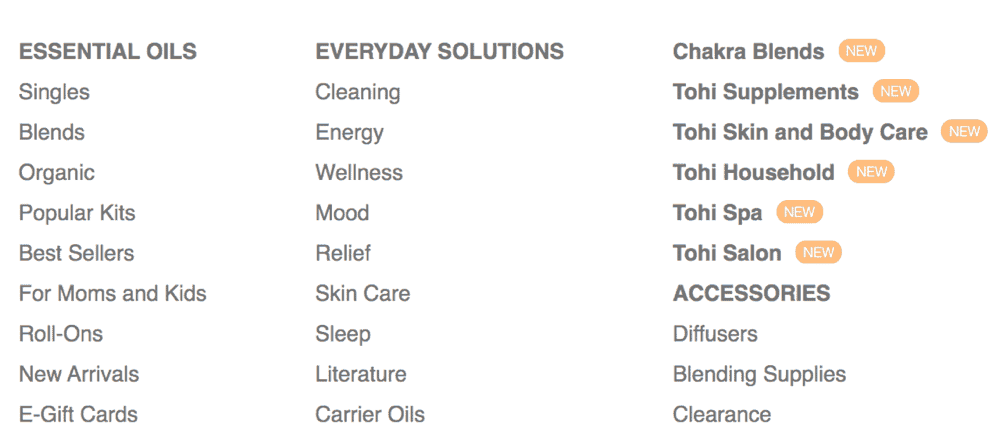 The product labels on the single oils include some much-needed information in regard to plant origin, and species, however, it is lacking in other helpful information and cautionary data. While safety information on the specific oils is accessible on the website, it would be more practical and thoughtful for customer safety considerations, if the information were printed on the label itself. Additionally, information on dilution and proper use would also be more useful than the section on "supplement data" which isn't applicable in this sense, as essential oils are traditionally discouraged from internal use.
RMO Education Offerings
Rocky Mountain Oils wishes their customers to use their oils safely and with confidence and therefore offer free resources to their client base online. Some of the free resources include: Dilution Rates chart, Kids Safety, Essential Oils 101, Lavender Guide, and their educational Blog. They also provide five inexpensive books on essential oil use, including: Exploring Essential Oils, AromaHeal 1, AromaHeal 2, Essential Oils Handbook, and Healing Oils- 500 Formulas For Aromatherapy, which are available for purchase.
Customer Service and Reputation
While browsing through the various single oils that RMO offers, the quality of the essential oil line can be seen by the 4 to 5-star ratings. A deeper look at individual oil reviews reveals great shipping times, and quality products. They have a 90-day, no hassle product return policy and will even cover return shipping… what more can one ask for?
Rocky Mountain Oils not only has a great reputation for their quality products, they also make an effort to give back the community and contribute to more than 30 different charitable causes.
Reflections of RMO Company
Rocky Mountain Oils exhibits itself as a reputable company that cares about the quality of the product that they are offering their customers. They aim to keep their customers with a loyalty program that increases in value with the amount of product purchased. The company has an extensive product offering of single essential oils that are comparable in price and value to other companies. RMO offers rare essential oils in 5ml bottles and others in 15ml bottles, which can ensure that your supply is always fresh as it is less likely to age on your shelf because it is in limited quantity. One drawback considered here is that this makes it less cost effective for the consumer to purchase the essential oils to sell products that they make on their own.
Some basic information on plant origin and therapeutic benefit, in addition to ideas for use, can be found in the individual descriptions for single essential oils. However, information is lacking in regard to plant part distilled and sustainability of use. For instance, customers may want to know that Sandalwood and Peru balsam are distilled from heartwood. Sandalwood can only be distilled after the heartwood has developed, close to 25 years of age. This infers an entire tree needs to be cut down to be distilled, whereas frankincense is distilled from resin, which does not take the life of a tree. If consumers had access to this information, they may use their oils differently.
Lastly, many of Rocky Mountain Oils products bear the SAAFE seal, however there are several single essential oils that bear this seal which are discouraged from use in traditional aromatherapy (Oregano, Wintergreen, Cinnamon Bark). These oils are offered for sale without any extensive warning on the product labels. Also, many citrus oils and some root oils are considered phototoxic and people should avoid using them 12 hours prior to being exposed to the Sun. This information isn't detailed on the oils that the caution is applicable to, and can only be found on the website. The website of RMO expresses the importance of education and safety by offering information through their website, they could do their customers a lot of benefit by offering practical information for safe use on the product's label itself. More often than not, unintended harm results from improper dilution of essential oils. While this information is also available online, it would be more applicable to have this information on the bottles.
Overall, this is a good company for a person with a decent amount of experience with blending essential oils and safety, since the safety data is not immediately apparent.
Shipping Information
All domestic orders within the United States qualifies for free 3-7 day economy shipping. If a customer needs to rush their order, RMO also offers priority mail and FedEx options. Orders that are placed before 11:00am MST, Monday-Friday, will be shipped out the same day. Orders that are placed after 11:00am MST will be shipped out the following business day.
Return Policy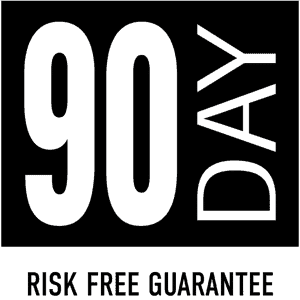 If any product doesn't meet your satisfaction, the company offers a standard all-encompassing 90-Day no hassle product return policy and Satisfaction Guarantee. You can return both opened and unopened products for any reason for up to 90 days for either an in-store credit or a refund back to the original form of payment. In addition,
Rocky Mountain Oils will also pay for their customers' return shipping expenses to make the ordering process completely risk-free.
Reward Programs for Everyone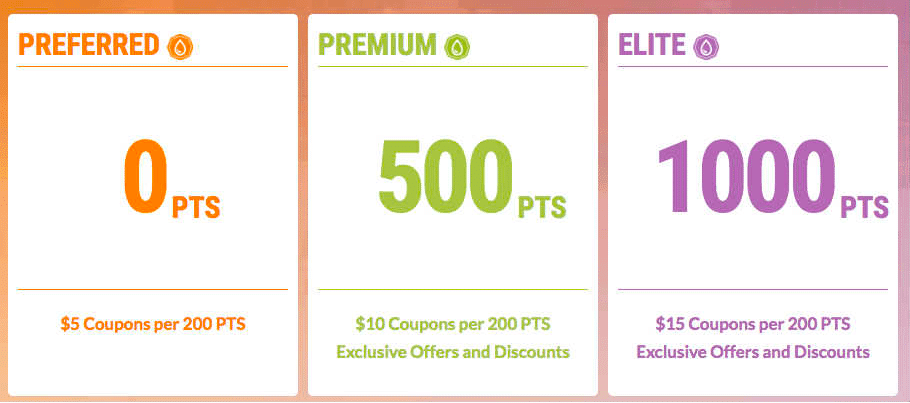 Rocky Mountain Oils believes each and every one of their customers deserves to earn rewards. To show their appreciation for their customers, any orders that are placed within the company website, while logged into a customer account, will receive rewards points for every dollar spent. Here is how their Club Oil'ty Rewards program works:
For every $1 spent, you earn 1 point.
Each customer is automatically enrolled in the Preferred tier.

Preferred customers can receive $5.00 off for every 200 points

Once you earn 500 points, you then move to the Premium tier.

Premium customers can receive $10.00 off for every 200 points.

Once you earn 1,000 points, you then move to the Elite tier.

Elite customers can receive $15.00 off for every 200 points.
Contact Information and Useful Links
If you have any questions regarding products or wish to contact the company, customer service representatives can be reached Monday thru Friday 8:00a.m. – 5 p.m. Mountain Time.
Additional information and helpful links are listed below.